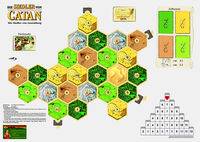 The Settlers of Luxembourg (German: Die Siedler von Luxemburg) is the fourth promotional scenario and fifth regional scenario for The Settlers of Catan and was released in August 2008 by a Luxembourg-based Catan group. It was released initially as a promotional scenario to participants in the Catan Competition at the 2008 Luxemburg Game Fair. Only 700 numbered copies of the game were created and 300 of those were retained by Klaus Teuber and Kosmos for corporate uses. Copies of the scenario are currently available here, although international customers should contact Alain first.
Ad blocker interference detected!
Wikia is a free-to-use site that makes money from advertising. We have a modified experience for viewers using ad blockers

Wikia is not accessible if you've made further modifications. Remove the custom ad blocker rule(s) and the page will load as expected.