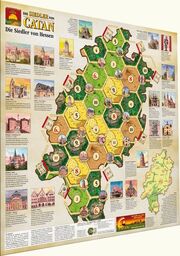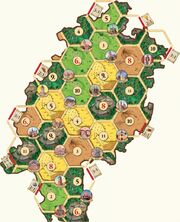 Die Siedler von Hessen or Catan: Hesse was the first regional scenario published in 2007 with the English-language version in 2009. Several other regional scenarios followed under the Catan Geographies label.
The State of Hesse is a federal state in central Germany while the cultural region of Hesse is much larger and encompasses the state of Hesse and part of the neighboring state Rhineland-Palatinate.
While most of the game play is exactly like playing regular Catan, there are some differences.
Settlements and cities must be built with in the designated circles denoted real world cities.
Roads can be built up to the settlement circles but can not be built beyond until the settlement it built first.
The Distance rule is suspended.
Special victory points are given to the first player to reach them.