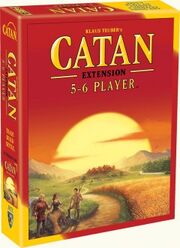 Catan: 5-6 Player Extension expands the basic version of Catan so that it may support 5-6 players instead of the basic 3-4. The extension is currently in it's 5th Edition.
The title of this extension changed from the 4th Edition The Settlers of Catan: 5-6 Player Extension to the current 5th Edition Catan: 5-6 Player Extension.
3rd Edition
Edit
HARK! You need The Settlers of Catan in order to play this game expansion!
In The Settlers of Catan 5-6 Player Expansion you control a group of settlers exploring and taming the uncharted lands of Catan. Embark on a quest to settle the island, competing for control with up to five crafty opponents. Guide your settlers to victory with clever trading and cunning development. Acquire your resources - grain, wool, ore, brick, and timber - through careful building and the luck of the dice. As always, the best strategy and a dash of luck decides who will be the undisputed ruler of Catan!
Now five to six players can explore and settle Catan! The 5-6 Player Expansion for The Settlers of Catan allows you to add up to two more opponents without sacrificing ease of play. Designed for 5 or 6 players, it adds even more drama to the award-winning game of discovery, settlement, conflict and commerce.
4th Edition
Edit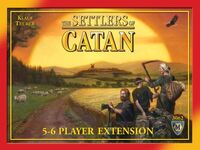 11 terrain hex tiles:
4 frame pieces
Green player pieces:
Brown player pieces:

5 settlements
4 cities
15 roads

25 resource cards:
28 die cut number chits (replaces Settlers chits)
2 Harbor pieces

1 x 2:1 Wool Harbor
1 x 3:1 Generic Harbor
Ad blocker interference detected!
Wikia is a free-to-use site that makes money from advertising. We have a modified experience for viewers using ad blockers

Wikia is not accessible if you've made further modifications. Remove the custom ad blocker rule(s) and the page will load as expected.