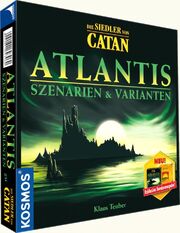 Atlantis: Scenarios & Variants for The Settlers of Catan is the second boxed expansion for The Settlers of Catan and has only been released in Germany. The boxed set collects and revises previously released mini-variants and adds a few new ones. It was bundled free with the 10th anniversary gold box version of Settlers.
Out of the Box
Edit
Variants included
Edit
Ad blocker interference detected!
Wikia is a free-to-use site that makes money from advertising. We have a modified experience for viewers using ad blockers

Wikia is not accessible if you've made further modifications. Remove the custom ad blocker rule(s) and the page will load as expected.